Food Safety, it's what Counts!!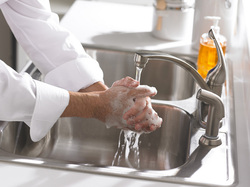 M
Learn about foodborne illness, how to prevent it and how to train employees in food sanitation. Choose from several online, classroom and language options. Earn nationally accredited food safety certification from the National Restaurant Association, ServSafe®.
Dana Food Safety can also administer exams for the National Registry of Food Service Professionals, and work with your company on developing a HACCP plans. The implementation of the
Hazard Analysis and Critical Control Point
(HACCP) rule
and FSIS' laboratory testing programs are two areas that help ensure the safety of the meat, poultry, and egg products supply.
The ServSafe® program provides the resources to help keep food safety as an essential ingredient in every meal. ServSafe® training is the one commitment to food safety implementation that we should all share every day.
Keeping Pennsylvania Growing means safe food and safe dining experiences. The Bureau of Food Safety and Laboratory Services plays a critical role in protecting Pennsylvanians and our visitors by regulating the tens of thousands of eating and drinking establishments, retail food stores, and food manufacturers found across the state to ensure compliance with food safety laws. On or after January 22, 2011, each food facility shall comply with Act 106 of 2010, which requires each facility to have one certified food employee who is accredited (and maintains accreditation) by a nationally recognized program, like ServSafe®. (Pa Dept of Agriculture)
Just because Dana Food Safety LLC is located in Pennsylvania, we also come to all states that need food safety training. We will make sure your training is up to standards based on your state, county, jurisdiction or city. Please call us to inquire about Food Safety training in your area today!
SYSCO PHILADELPHIA~ Philadelphia
OCF Federal Coffee House~ Philadelphia
Philadelphia Java House
Cosi~ Northeast


Chip
otle~ Philadelphia
Anthony's Coal Fired Grill Pizza
Lickity Split~ New Holland PA
DiMaria's Pizza~ Lititz PA
Flour Pot Cookies~ Philadelphia PA
Riviera's Pizza~ Reamstown PA
Sal's Pizza~ New Holland PA


Leola Pizza~ Leola PA
Cabelas~ Campfire Grill Hamburg PA
Cynful Bliss
Homewood Suites~Exton PA
HCR Manorcare~Easton PA
Ten Thousand Villages~Ephrata PA
Marathon Grille~Philadelphia PA
The Colony Meadery~ Allentown PA
The Reading Hospital~Reading PA
Speedway~Mid-Atlantic Region
Pete's Famous Pizza~Phila PA
​Fuel~ Philadelphia PA
Metro Pizza~Central PA
Lancaster CTC~ Lancaster
Aramark~ Northeast
Qdoba~Philadelphia PA
Four Season's Produce~Ephrata PA
Palmyra High School~ Palmyra PA
Harrisburg School District~ Harrisburg PA
Yoders Country Market~ New Holland PA
Pittsburgh Mercy~ Pittsburgh PA
Ambridge Borough~ Beaver County PA
CHOP~Philadelphia, PA
Mrs. Tootsies South St Phila
Tattooed Mom South St Phila
Annie Baileys, Lancaster
Gravy Commons, Lititz
And many many more!!!
I want to thank each and everyone of my clients for their business and for keeping their food safety number one! Its what counts!!
---