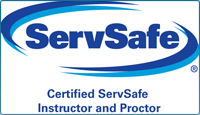 ClassRoom Training
8 hour video based training

$175.00



Exam Voucher Fee $36.00

Book is optional~ 7th Edition Book is $65.00, you can also rent one thru Amazon Prime.

You will also receive a Pre Study Packet thru Email or Mail, this is included in registration at no cost. These study links will be enough information to prepare for the exam.


DISCOUNTS AVAILABLE FOR GROUPS OF 5 OR MORE, $150.00 pp

ServSafe Classroom Training and Exams will be held in a comfortable location. Classes will be video based and PowerPoint presented on a professional level with your proctor/instructor, Dana S Baker.

YOUR BOOK, if requested WILL BE MAILED STRAIGHT TO YOUR HOME OR BUSINESS LOCATION. PLEASE STUDY! IT WILL MAKE IT MUCH EASIER TO PASS IF YOU TAKE THE TIME TO STUDY! I will also send additional study materials to make it easier to pass the exam.

Participants who reschedule a class or exam less than 7 days before the scheduled class or exam will be charged a $65.00 rescheduling fee.

Google Analytics